Quotation gallery
The knowledge of a trade is worth a handful of gold. Scottish Proverb
Principles of QMS
The quality management system of NKSU named after M. Kozybayev is based on eight quality management principles:
Customer focused organization. University depends on its customers and therefore seeks to understand current and future customer needs, meet customer requirements and strive to exceed customer expectations.
Management leadership. University leaders establish unity of purpose and direction of the organization. They create and maintain the internal environment in which teachers and staff can become fully involved in achieving the university's objectives
Involvement of employees. People at all levels are the essence of the University, and their full involvement enables their abilities to be used for the university's benefit".
Process approach. To achieve the desired result different activities of the University and related resources are managed as a process.
System approach to management. A network of interconnected processes is defined in the university. Understanding and managing interrelated processes as a system contributes to the effectiveness and efficiency of the University in achieving its objectives.
Continual improvement. Continual improvement is a permanent objective of the university."
Factual Approach to Decision Making. Effective decisions are based on the analysis of data and information.
Mutually beneficial supplier relationships. University and educational institutions of the city and the region are interdependent, and a mutually beneficial relationship enhances the ability of both to create value.
Process and system approach to NKSU named after M. Kozybayev
Process approach means that any activity is presented as a process. In the work of the university processes interact in complex ways, forming a system or network processes. Management process includes defining the objectives and resources of the process, the definition of methods and means of implementing the process, control the use of resources that are allocated for the implementation of the process, monitoring the course of the process, the analysis of its performance and the correction of the process.
For continuous improvement of any process used Deming Cycle PDCA - Plan, Do, Check, Act.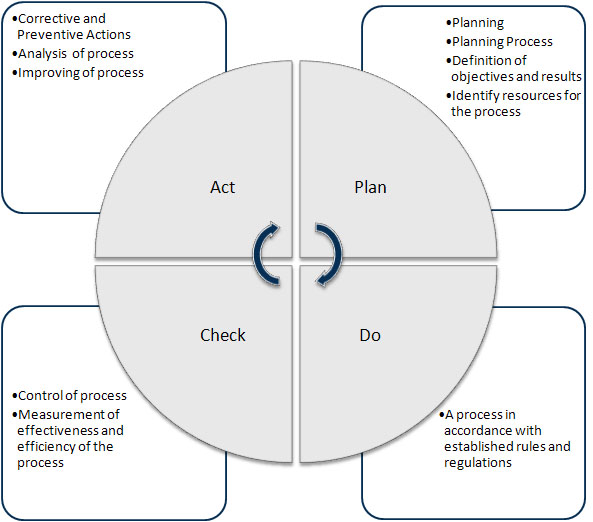 In NKSU named after M. Kozybayev are identified the following processes from the development and implementation of QMS:
Document management:
Management of internal documents of QMS (PRO NKSU 401);
Management of organizational documents (PRO NKSU 402);
Management Service documentation (PRO NKSU 403);
Management of external documents (PRO NKSU 404);
Archive management (PRO NKSU 405);
Records Management for Quality (PRO NKSU 406).
Management responsibility for:
University planning improvements (PRO NKSU 501);
Analysis of QMS from management (PRO NKSU 502).
To provide resources:
Personnel management (PRO NKSU 601);
Staff development (PRO NKSU 602);
Educational work and organization of social conditions for students
(PRO NKSU 604);
Scientific research work of academic staff, graduate students,
undergraduates, students (PRO NKSU 605);
Operation, maintenance and repair of equipment (PRO NKSU 606).
For Life Cycle:
Professional orientation work (PRO NKSU 701);
Formation of a contingent (PRO NKSU 702);
Methodical work (PRO NKSU 703);
Planning of educational process (PRO NKSU 704);
Learning process (PRO NKSU 705);
Professional and practical training (PRO NKSU 709);
Employment of graduates (PRO NKSU 710);
Test instrument management (PRO NKSU 712);
Procurement necessary to ensure quality (PRO NKSU 713).
For improvement:
Quality control of educational process (PRO NKSU 708);
Knowledge assessment (PRO NKSU 706);
Knowledge assessment of undergraduates(ПРО СКГУ 715);
Internal audits (PRO NKSU 801);
Corrective and preventive actions (PRO NKSU 803).