Quotation gallery
To teach is to learn twice.
Joseph Joubert
NKSU Student Choir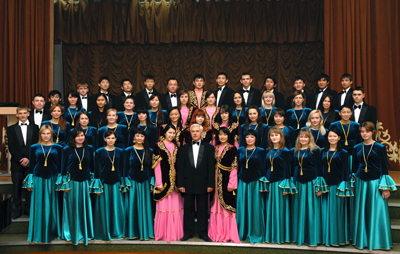 NKSU Student Choir was organized in 1995, the first head of it was Honored Artist of Kyrgyzstan Yury Kolchin, who worked with a team more than 15 years. Since 2010, the choir led Alexander G. Green, winner of the Republican choral performance contest.
The collective is the promoter of choral music, both at the university and beyond. In the repertoire of the choir there are composers of Kazakhstan and abroad: scenes from operas M. Tolebaev "Birzhan and Sara", Bizet's "Carmen" , G. Sviridov cantata "Kursk Songs," and the male choral group presented an interesting treatment of Kazakh folk song "Ak Sis." Performing style of the team is surprisingly ease of expression, full of sincerity, warmth and, at the same time, saturation, colorful sound.
Repertoire is constantly maintained and updated by classics, Kazakh folk songs arranged for choir, nation songs , modern pop and jazz miniatures performed by different groups of choral compositions with elements of choral dramatization. Choral works are performed in the original language (Kazakh, Russian, Latin, Ukrainian, German, etc.).
Student choir takes part in events held within the city, region, country. In 2008, the choir won the 2nd festival of choral music in Astana.
The team works with interest, creative approach to each new performance, eagerly looking for new and interesting projects to please their audience by a professional, bright, unique performance.