Quotation gallery
Mediocrity knows nothing higher than itself; but talent instantly recognizes genius. Sir Arthur Conan Doyle
Sport and health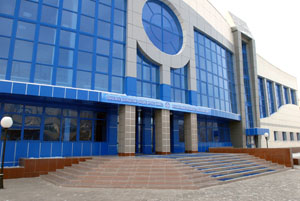 Расписание спортивных секций для студентов на 2018-2019 учебный год
Расписание спортивных секций для ППС и сотрудников на 2018-2019 учебный год
The university has a necessary base for conducting sports and popular works. There are available 3 gym halls (two gym halls for games, 1 gymnasium), 3 gyms, 1 hall for the wrestling, a kettlebelling hall, a shooting gallery, the swimming pool, skates and ski depots, the sports ground for indoor football. Annually the sports stock and an equipment is updated for carrying out sports and popular works and the participation of national teams of higher education institution in winter and summer university games.
There will be organized the sports and mass actions directed on a strengthening of health and improvement of physical condition of students, a maintenance of healthy life among a teaching stuff at university.
Annually there are held the mass sporting events:
Sports and health improving sections work on 10 types of sport.
The sports students's teams of the university on the types of sport take part in the winter and summer University games among students and take the prize-winning places.
1
2
3
4
5
6
7
8
9
10
11
12
13
14
15
16
17
18
19
20
21
22
23
24
25