Quotation gallery
An investment in knowledge always pays the best interest. Benjamin Franklin
Accreditation
Accreditation is the process by which the accreditation organ assesses the quality of the institute of higher education as a whole as individual educational programs of the institute of higher education for recognition of their conformity to certain standards and criteria. The standards and criteria are determined independently by each accrediting organ. The forms of accreditation are:
Institutional accreditation


the process of accreditation of educational organizations as a whole.

National accreditation


the accreditation of organization of education or programs within the country.

Specialized accreditation


the accreditation of vocational training programs.

International accreditation
the accreditation of educational organizations or individual vocational training programs in foreign accreditation agency.
---
According to the Education Law of Kazakhstan (Article 9-1), accreditation is voluntary. The institute of higher education chooses the accreditation organ, entered in the register MES, and pays the accreditation procedure at their own expense.
Institutions that have passed the institutional and specialized accreditation relieve from state certification procedures for accredited programs for a period of accreditation.
---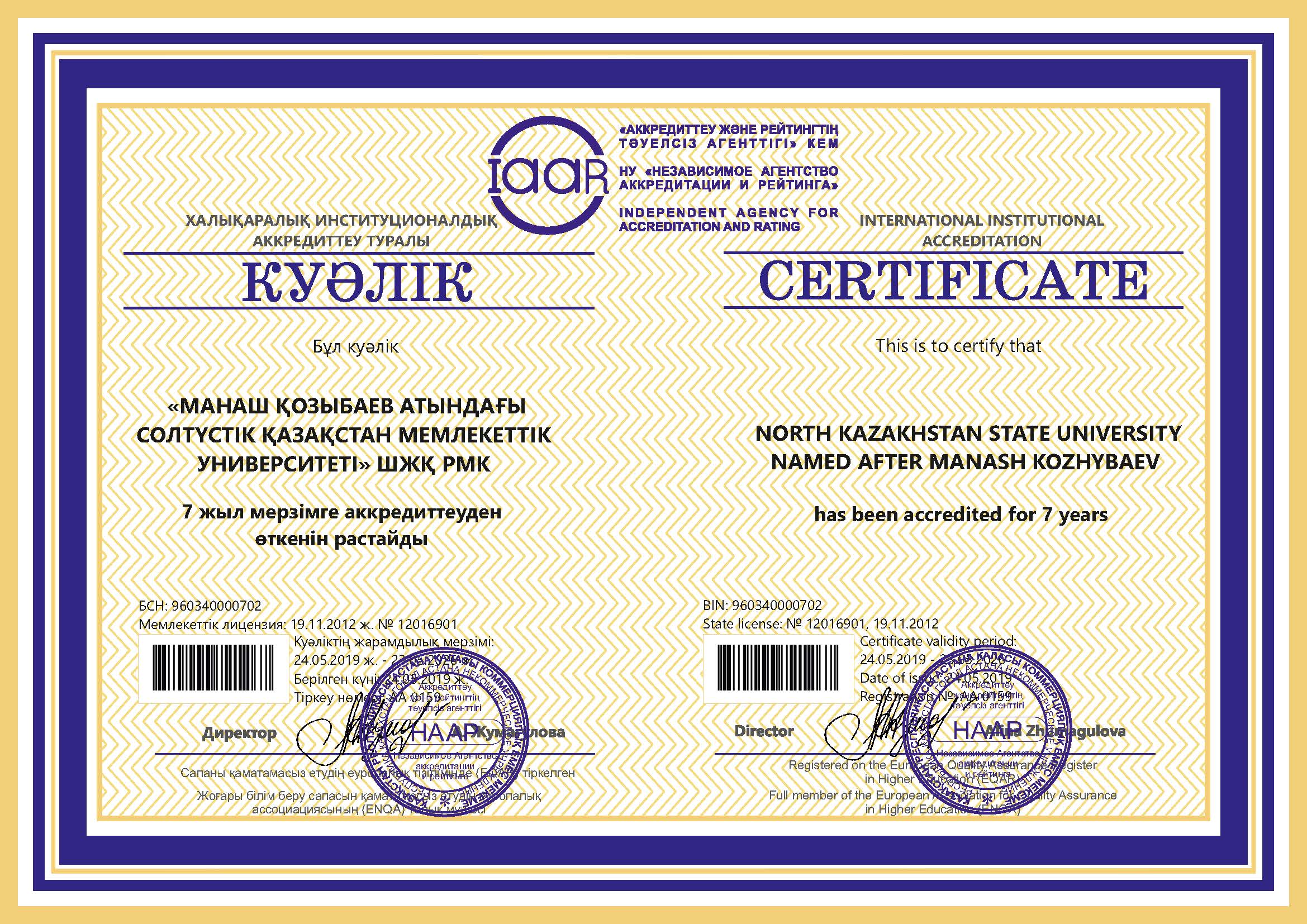 Accreditation of M. Kozybayev NKSU and educational programs
In May, 2019 the university has got the institutional accreditation for 7 years by the decision of Accreditation council of the Independent agency for accreditation and rating.
Today, one of the most important strategic tasks of the university is the accreditation of educational programs in foreign agencies.
Three educational programs of the university 5B071800 Electrical power engineering, 6M071800 Electrical power engineering, 5B071600 Instrument engineering were accredited for 5 years (till September, 2019) with the label EUR-ACE® in ASIIN.